Our time at DHI was over. We had been there so long but barely touched the many things to do there. It had been a blast, certainly the best place we've been from around Australia, but now, it was time to continue with our seemingly endless trip around Australia.
On our travels, we managed over 57000km of driving. Though we didn't go to every town, there's a lot, and I'm sure that you don't need to hear about every stopover. So I'll skip past to the good bits.
One of our next most interesting places around Australia is a lot different to the luscious Dirk Hartog Island. 756km from the nearest beach, in the middle of the red, barren desert. They play golf at night and live underground. Coober Pedy in central, South Australia.
Take it from me, the desert isn't a nice place. Neither is an eight-hour drive, over the most boring of roads, I know. Now, to get from Port Arthur to Coober Pedy, in a car that's going slow with a caravan on the back, over 756km, in 40oC weather, crammed in the back between your two sisters, I could go on – It's not fun. The land outside only red dirt and shrubs, the most boring of scenery I've seen, it's not a surprise when you're nine. The horizon, a mirage, this was the only time that I ever enjoyed my dad's music.
The trip seemed to get worse and worse. As our bottoms started to ache, we watched the world outside turn from what was a fertile land, to red dirt and the odd, dead shrub. The clouds too had disappeared and we started baking in this oven we owned. The fact of 'arriving' had become a myth, we kids never believed we would get there.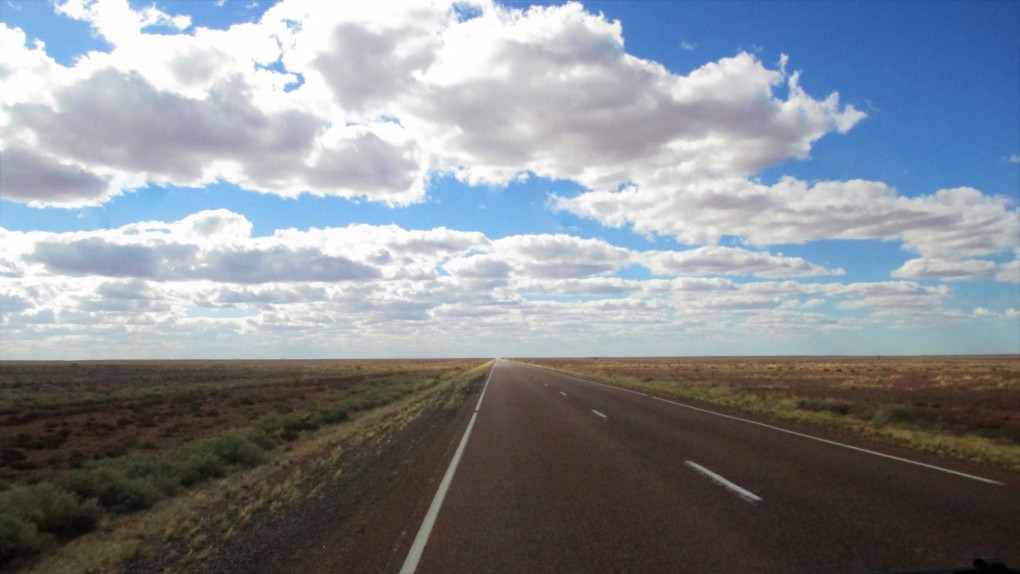 We'd seen about five snakes cross the stained red road, two of which we thought we hit, another squashed by someone else. I was starting to feel car-sick in the boiling car. Dad's air conditioning was at 120%, but none of it ever reached the back seat. We couldn't stop because we still had more than half the trip to go and we were tight for time. At least the road had stopped winding, but now it was even less entertaining…. white line… white line… white line… white line…
Halfway there the snack bag was completely empty, except for an apple Mum had packed for me. After previous experiences, I knew they only make car sickness worse. Grace had her head planted in a book, Audrey was drooling on my shoulder while she slept. I was jealous of her, I could never sleep while driving.
My water bottle was empty and my bladder had almost busted. I was still feeling sick so it was a perfect excuse to stop and get some fresh air. Dad pulled over on the side of the road, everyone jumped out with a sigh of relief, mine was the biggest.
We got back in the oven… I mean, car. This time Grace let me sit on the side seat so I wasn't crammed between her and Audrey. When we were driving, I would always make up my own distractions out the window. One was finding a piece of dirt stuck to the window, then moving your head up and down to try and make it appear that it is above the horizon. It used to last me forever, sometimes up to an hour with Grace and Audrey staring at me, wondering, what the hell I'm doing with my head. So that's what I did, for a few minutes or so, but with the flat land out there in the desert, it became pretty boring.
Finally, there was a sign. A sign that we were actually getting closer. The sign was a sign. The sign said, 'Coober Pedy local fresh veg store, only 300km to go!' I'm not sure it if was a good sign or not, it made us laugh at the stupidity, but then it said 300km to go. I frowned.